Simple Link Directory WordPress PlugIn by QuantumCloud
What is Simple Link Directory?
Simple Link Directory is a unique and advanced solution to all link page, resource page or partners page needs on your WordPress website. This is a new way to create Link Directories on your website. Forget those boring diretcory styles and layouts. This innovative and powerful yet simple Link Directory WordPress PlugIn allows Admin to create Lists of website links with website logo and a short description. Create dozens or hundreds of lists of relevant website links on any broad topic. Then show all your Link Lists in beautiful layout on a single page. Or you can choose any single link List to show with short code.
(This is the release blog post for Simple Link Directory and a bit outdated. For latest features and updates please check the Simple Link Directory Landing page)

This directory plugin is helpful not only to create a unique, responsive link directory but also to create a nice looking partners, associates or affiliates page for your company.
Design Directories with Style
Simple Link Directory comes bundled with two modern and great looking templates that are fully Responsive, Masonry and integrates with your current theme easily. Links can be marked to open in new window or same window. by default all links are selected to use rel=nofollow but this setting can be overridden selectively.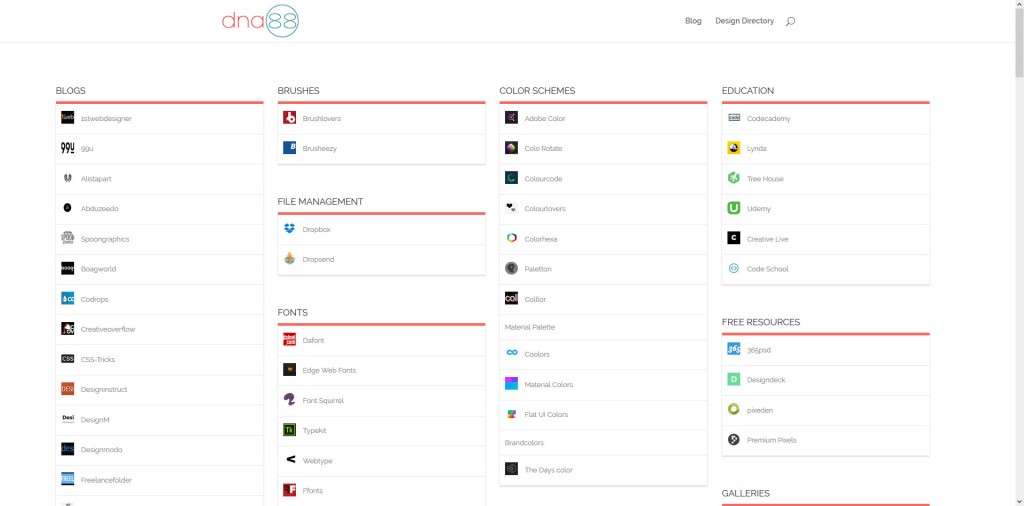 Default Style for Simple Link Directory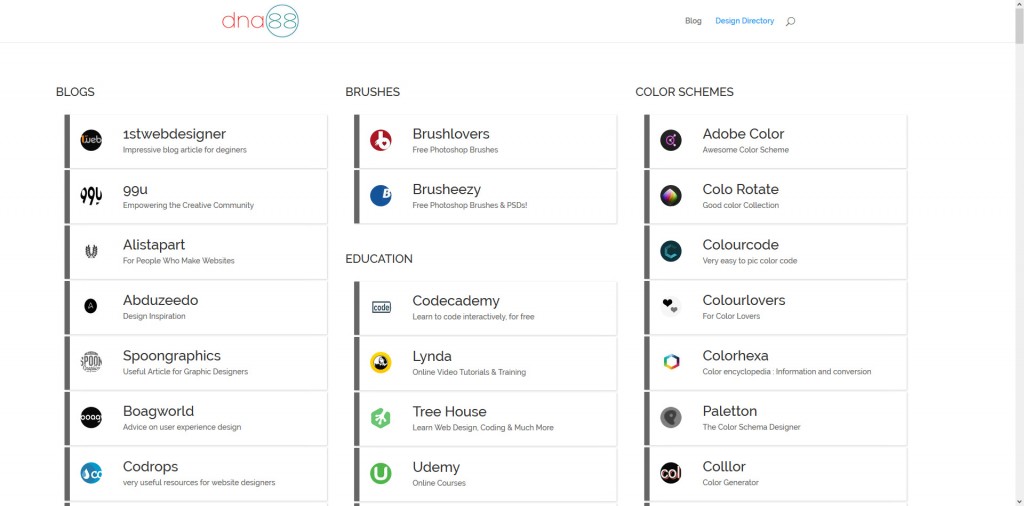 Alternative Style for Simple Link Directory
Simple Link Directory Demo:
Check Ultimate List of Free Web Design Resources for demo. Do note that this demo has some additional features not available with the Basic version in WordPress plugin repository.
Simple Link Directory Options:
Link Lists can be shown in the front end using short tags with different options: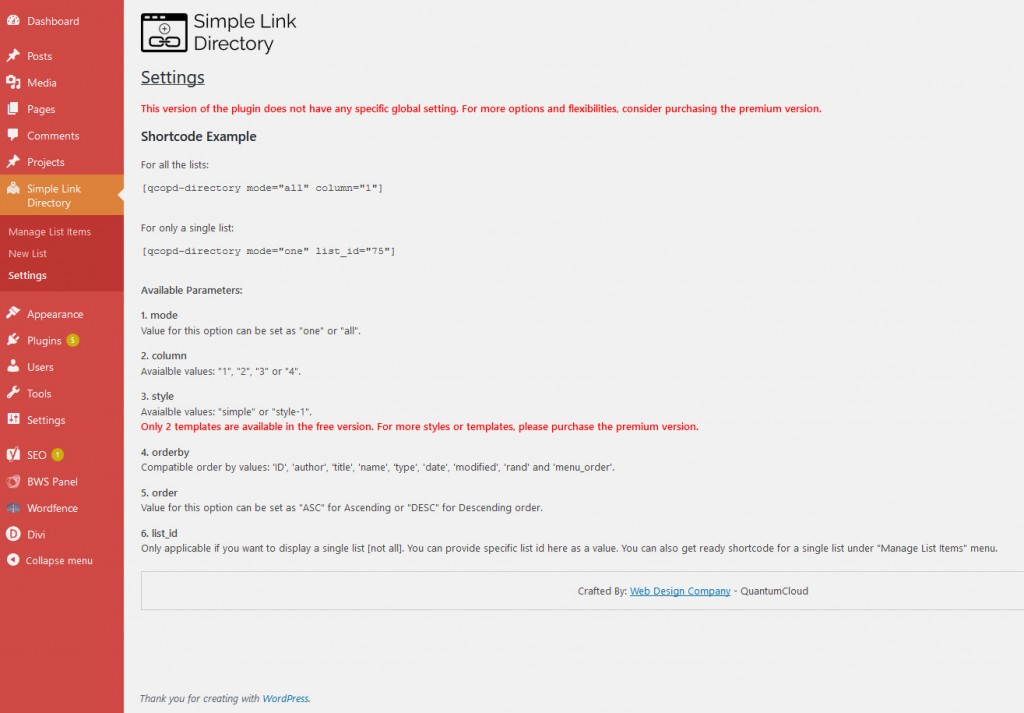 Settings Page
Available Parameters:
mode Value for this option can be set as "one" or "all".
column Avaialble values: "1", "2", "3" or "4".
style Avaialble values: "simple" or "style-1". Only 2 templates are available in the free version. For more styles or templates, please purchase the premium version.
orderby Compatible order by values: 'ID', 'author', 'title', 'name', 'type', 'date', 'modified', 'rand' and 'menu_order'.
order Value for this option can be set as "ASC" for Ascending or "DESC" for Descending order.
list_id Only applicable if you want to display a single list [not all]. You can provide specific list id here as a value. You can also get ready shortcode for a single list under "Manage List Items" menu.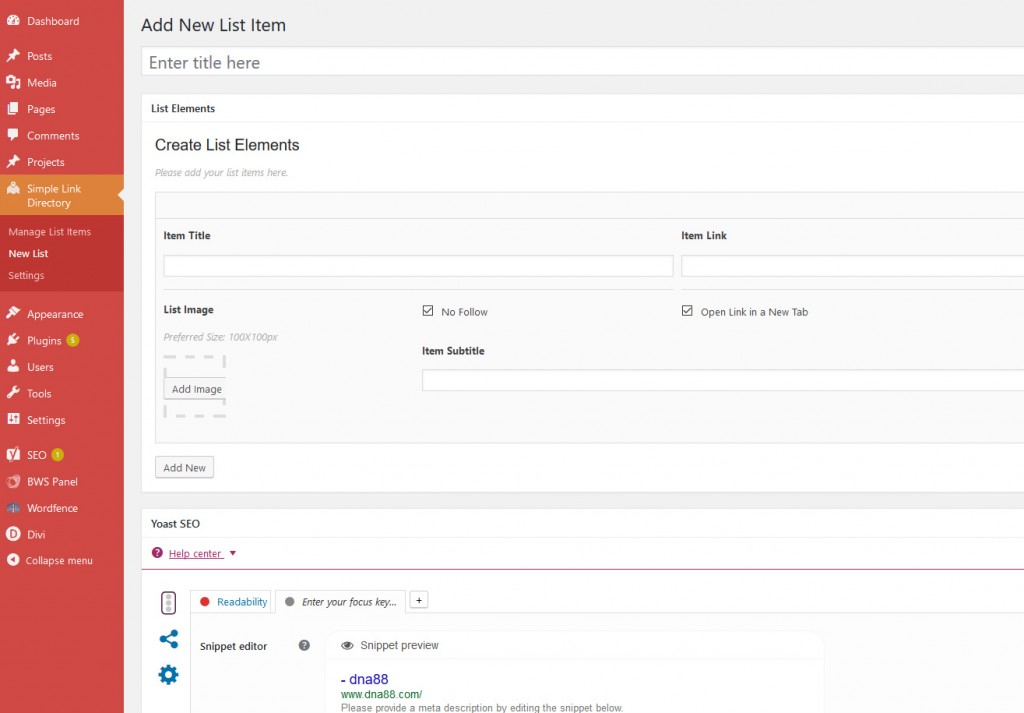 Add New Link List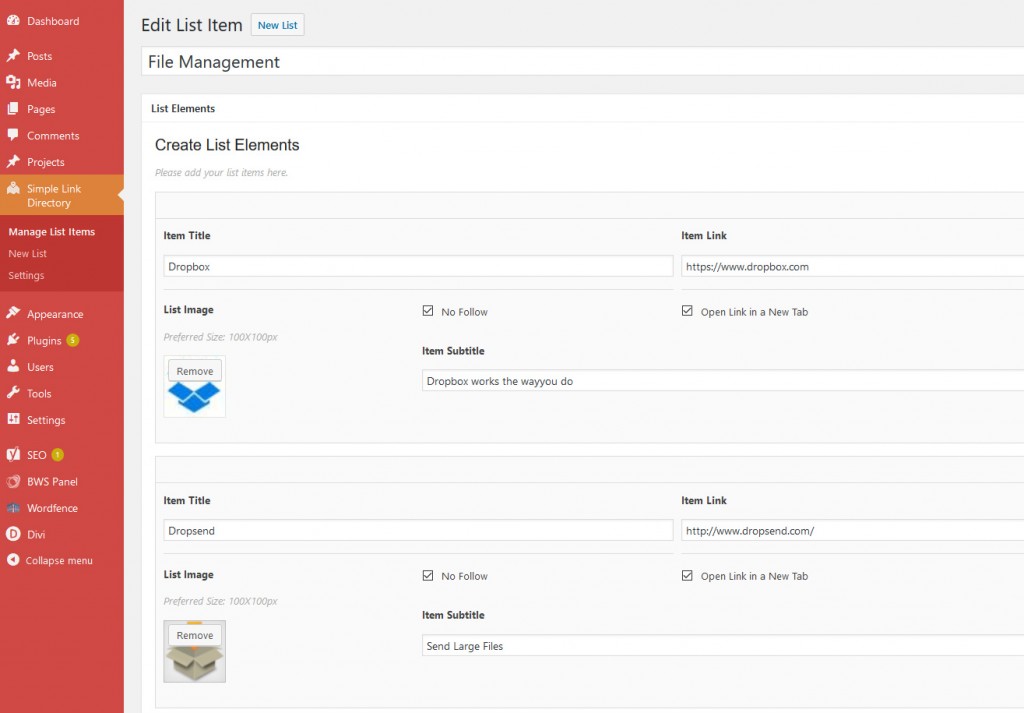 Manage your Links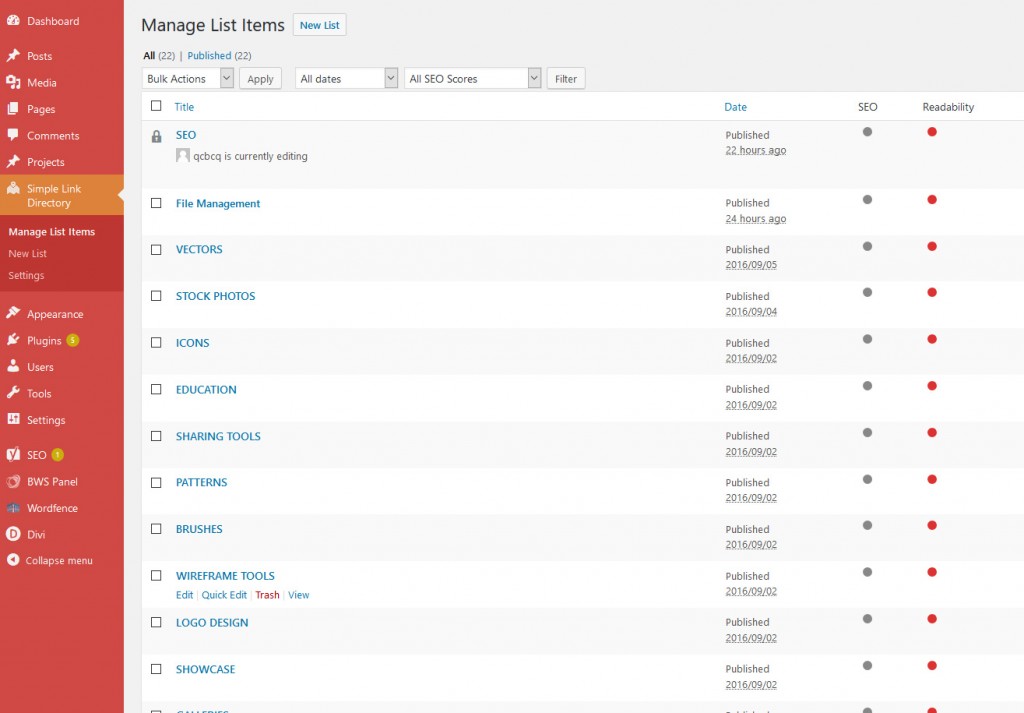 Link Lists you Created
What is Next?
We are working on an even more awesome version of the Simple Link Directory. Some of the Advanced features include ability to assign colors for each element of the Link Lists, Filtering, Maintain Category of Link Lists and Show single category of link lists in any WordPress page with short tags and many more.
Simple Link Directory PlugIn for WordPress – Pro Features
Build lists with dozens or hundreds of links and show them in one page
Use as Link Directory or Partners and Associates pages
Configurable List highlight color for each list
Customize colors of all aspects of the link lists
User Up Vote
Complete control over list ordering
Live, on page, instant search
Live, on page, instant filtering of lists
Admin settings to turn on/off live search, filtering
Powerful short code options for extensive control over display
Add to List button
Available Link Directory templates in Pro version:

Download:
Download Simple Link Directory Light free from WordPress repository.