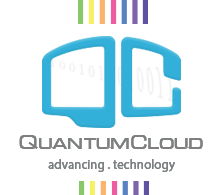 Portfolio X - Pro
An advanced portfolio manager
---
Thank you for purchasing our item. If you have any questions that are beyond the scope of this help file, please feel free to email via our user page contact info form here. We truly hope our plugin increases the value of your website!
What Portfolio X?
Portfolio X is an advanced portfolio with streamlined workflow and unique designs and templates to show your works or projects. Project Showcase and Widgets are included. This free WordPress Portfolio plugin was designed and developed with user-friendliness in mind. Just add some images and descriptions of your works and the plugin will automatically show them in a nice, engaging format.
Portfolio X comes packed with 4 different and unique Responsive templates, showcase template, ready widgets and an advanced "Shortcode generator". You will love them all.
This is a new, elegant and unique way to showcase your projects that will help bring you more projects and clients for your company!
The plugin is under active development. We will release more features soon!
Who is it for?
Portfolio X is a must have plugin for you if you are a:
Web Design Studios
Graphics Design Companies
Photographers
Software Development Companies
Artists
Creative Individuals or Companies
Where Can Portfolio X be Used?
Portfolio X is one of the Best, Most Creative and Free WordPress Portfolio Plugins available. It can also be used as:
Image gallery, Photography Gallery, Art Gallery, Creative Works Gallery, Client Gallery
Photo Gallery, Photo album, Photo portfolio, Design Studio, Featured works
Work Showcase, Project Showcase, , Client Showcase, and of course,
You can install "Portfolio - X Pro" plugin by following some simple and easy steps.
Please find 'portfolio-x-pro.zip' file inside your downloaded package and install it following the steps below: -
From your WordPress dashboard:
Visit 'Plugins > Add New'
Click on 'Upload'
Click on 'Browse' button and then select 'portfolio-x-pro.zip' from file upload window
Then click 'Install Now' button. The plugin will be installed within some moments.
Then click 'Activate Plugin' link to activate the installed 'Portfolio X - Pro' plugin.

Manual Installation:
'Upload / Copy' 'portfolio-x-pro.zip' file to your 'wp-content\plugins' folder
Unzip the 'portfolio-x-pro.zip' file
Visit 'Plugins -> Installed Plugins' from your site dashboard
Find 'Portfolio X - Pro' in the plugins list, and activate it by clicking on 'Activate' link
Important: Only follow the upgrade section if you want to upgrade your plugin from FREE version to PRO version. Otherwise please ignore this UPGRADE section below.
HOW TO UPGRADE FROM FREE VERSION
To upgrade your "Portfolio-X" plugin from FREE version to PRO version please follow the below steps: [Please follow only FIRST METHOD or only SECOND METHOD, however, FIRST METHOD is more convenient and recommended.]
First Method:
Download the latest pro version of the plugin from website
Log in to your WordPress admin area and go to the Plugins management page.
 Deactivate and Delete the old version of the plugin (don't worry – your data is safe)
Upload and Activate the latest pro version of the plugin
You are done.
After installing 'Portfolio X - Pro' plugin, you can manage your like directory and items as below -
Simple Steps to get Started:
There are basically two things to do:
Create a Portfolio
Then create Portfolio Items and assign them under your created portfolio
How to create a Portfolio:
Go to Portfolio-X menu from your WordPress dashboard
Click on Add Portfolio button
You will then get a page to add your portfolio
Give your portfolio a Ttitle
Select Portfolio Template from the available list of templates
You can optionally select Order By and Order parameters
Finally publish your Portfolio by clicking on Publish button from the right column.
You can change these set parameters of the Portfolio anytime by Editing it.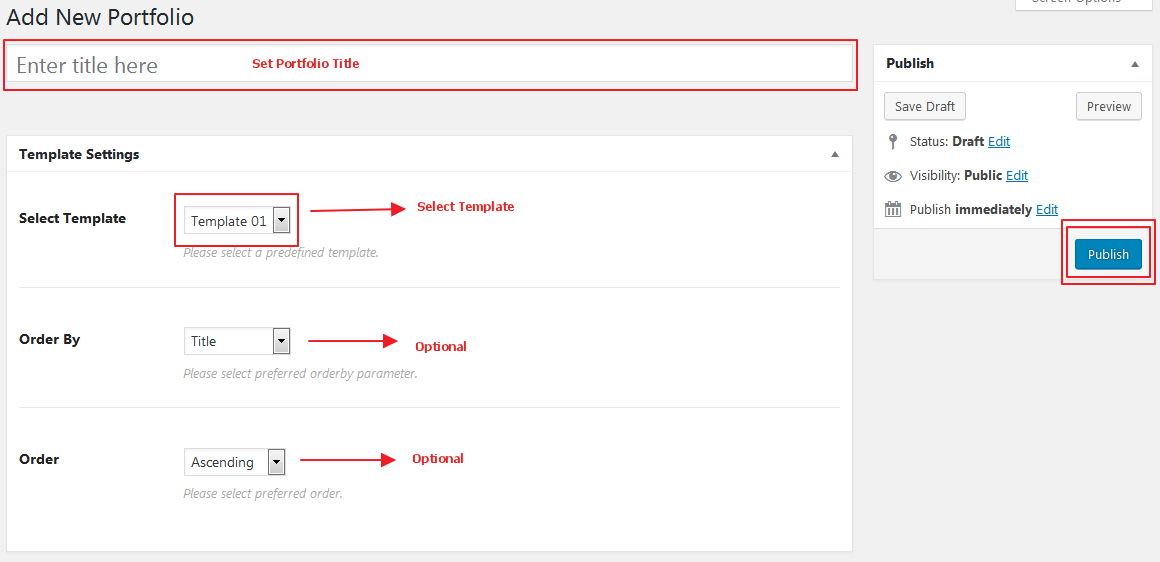 How to add an Item under a Portfolio:
Go to Portfolio Items menu, then click on Add Portfolio Item
Give it a Title, Example: Jhonny Soles Website
Set Details Description and Short Description texts
Set project live URL, if any
Pick Start Date and End Date, if any
Add gallery images for this portfolio item
Finally, Assign this portfolio item under any one or more of your created Portfolio
Most importantly, set a featured image for this item [it's a must to do]
Then Publish your item
You can create an much item as your like as the same way above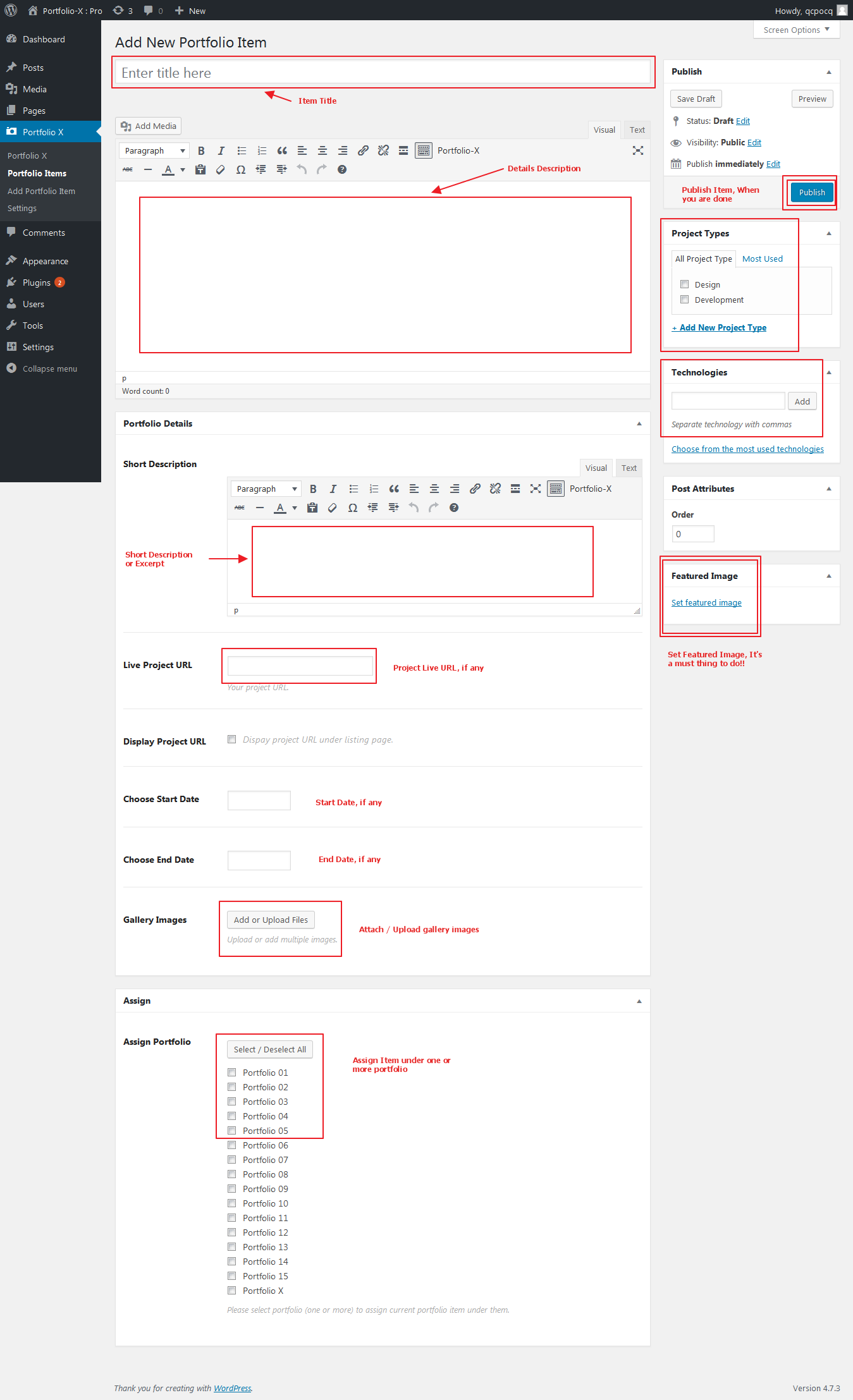 To display Portfolio in your post/page, you need to use the shortcode.
You can use shortcode button [in your TinyMCE] editor to pick and customize the shortcode with available parameters. Or, you can use/copy shortcode example from below.

View of Shortcode Generator is as below: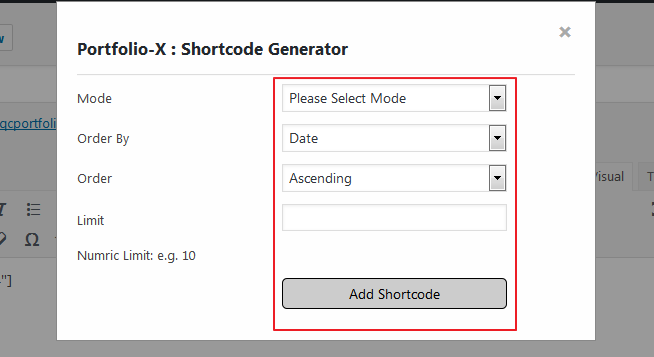 Example of a Shortcode:
Example 01: [portfolio-x portfolio="4"]
Example 02: [portfolio-x mode="portfolio" portfolio="4" theme_style="template-01" orderby="date" order="ASC"]
Example 03: [portfolio-x-showcase mode="showcase" template="style-02" orderby="date" order="ASC"]
Please Note: Shortcode Generator is the most convenient way to insert shortcode to display portfolio or showcase. We suggest you to use that generator.
Available Shortcode Parameters, for Portfolio/Showcase:
01. mode
Example: mode="portfolio", or mode="showcase"
It specify how you want to use this shortcode, to display portfolio. or to display showcase
02. portfolio="4"
ID of the portfolio, if you are using this shortcode to display a Portfolio, not a showcase.
03. theme_style="template-01"
You can override the set theme style of the portfolio by using this parameter.
Accepted Values: "template-01" to "template-15"
04. orderby
Compatible order by values: 'ID', 'author', 'title', 'name', 'type', 'date', 'modified', 'rand' and 'menu_order'.
Default is: menu_order
05. order
Value for this option can be set as "ASC" for Ascending or "DESC" for Descending order.
07. template="style-02"
Use this parameter to choose showcase template only. Ommit it for a portfolio.
Accepted Values: "style-01" to "style-07"
You can access settings page from - "Dashboard' --> 'Portfolio-X' --> "Settings"
Settings options are Self Expanatory as their titles. Available settings options are as below: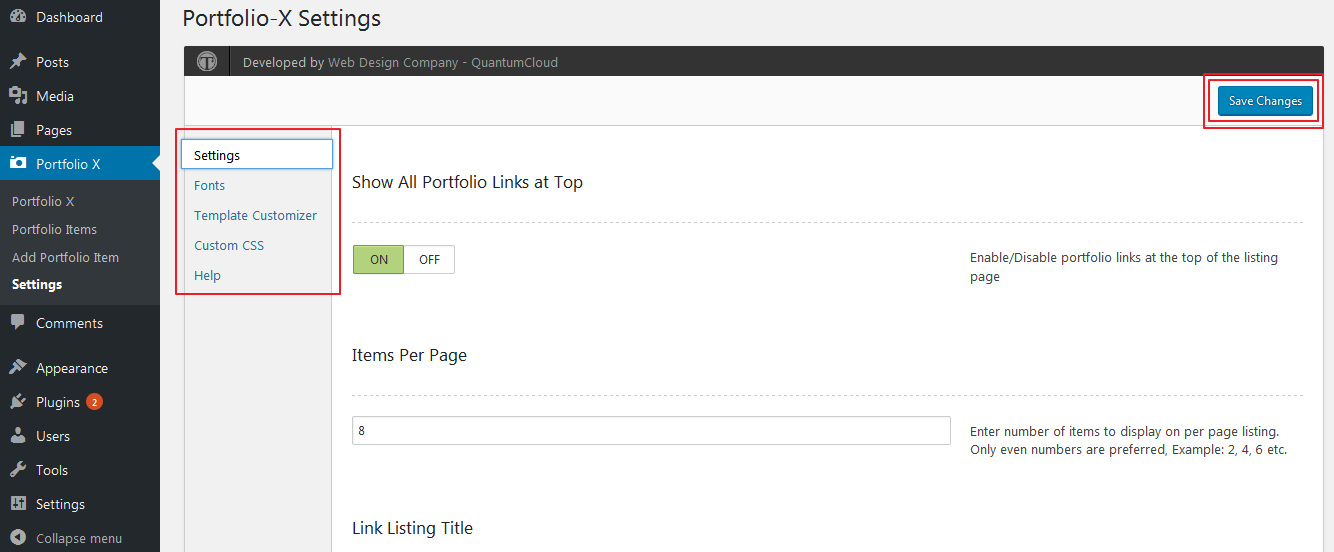 Settings option has multiple tabs:
SETTINGS: to apply global settings
FONTS: to apply global font configurations
TEMPLATE CUSTOMIZER: to customize different templates
CUSTOM CSS: to add any custom stylesheet codes
HELP: to get some brief help
SETTINGS tab:
01. Show All Portfolio Links at Top
Display all of your available portfolio link at the top of the portfolio
02. Items Per Page
How many portfolio items you want to show per page. Default, 5
03. Link Listing Title
To link or not the portfolio item title during display.
04. How to View Portfolio Details?
How to open the portfolio details. Via popup window or via a separate page
05. Top Buttons background Color
Background color of the top buttons. i.e. Portfolio Links
06. Top Buttons background Color on Mouseover
07. Top Buttons Shadow Color
Shadow color of the top buttons
And other color configurations are available. These are self explanatory as per their titles.
There are 16 templates for Portfolio, and 07 templates for displaying Showcase.
Portfolio Templates:
---
01. Template 01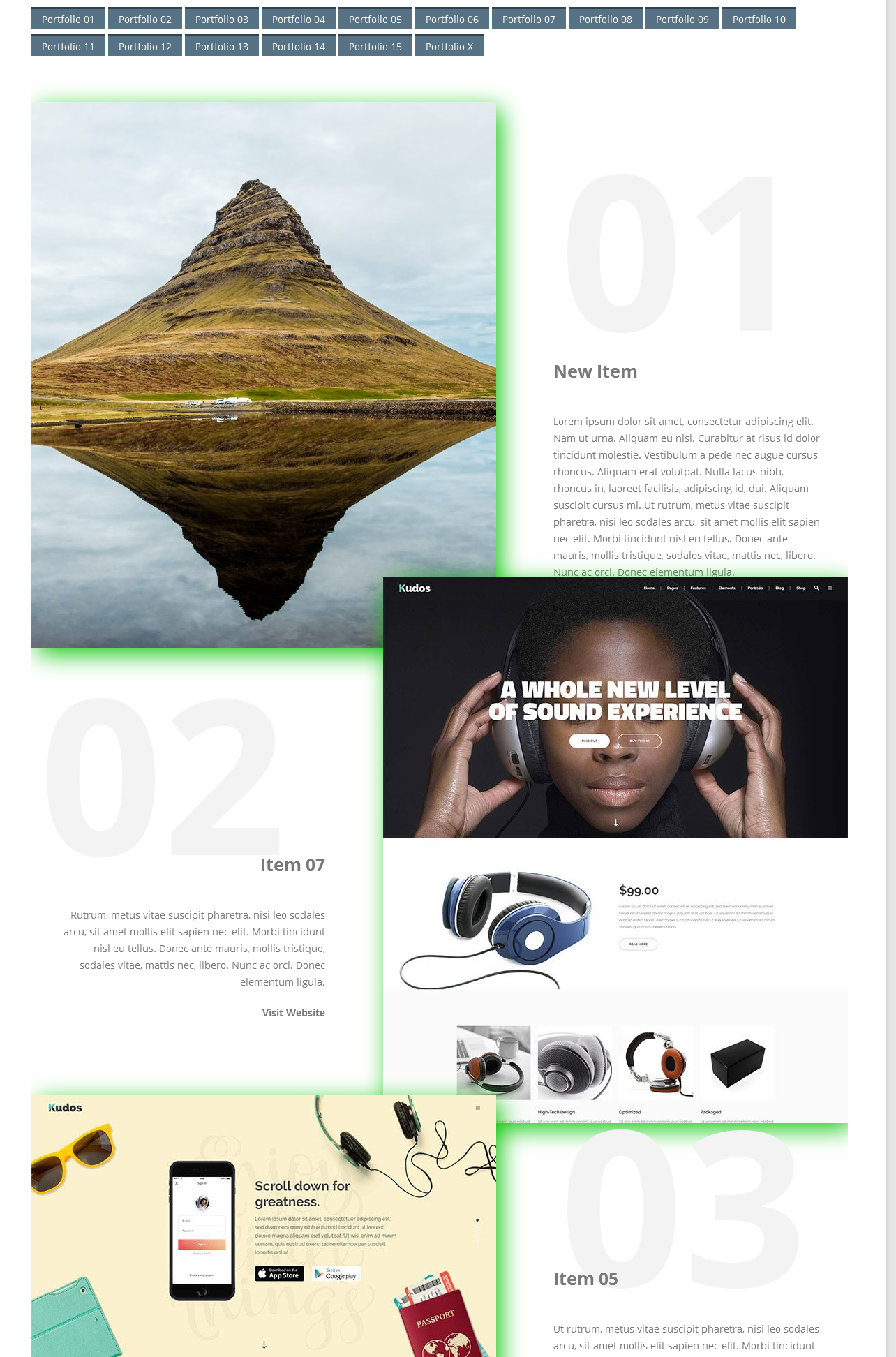 ---
02. Template 02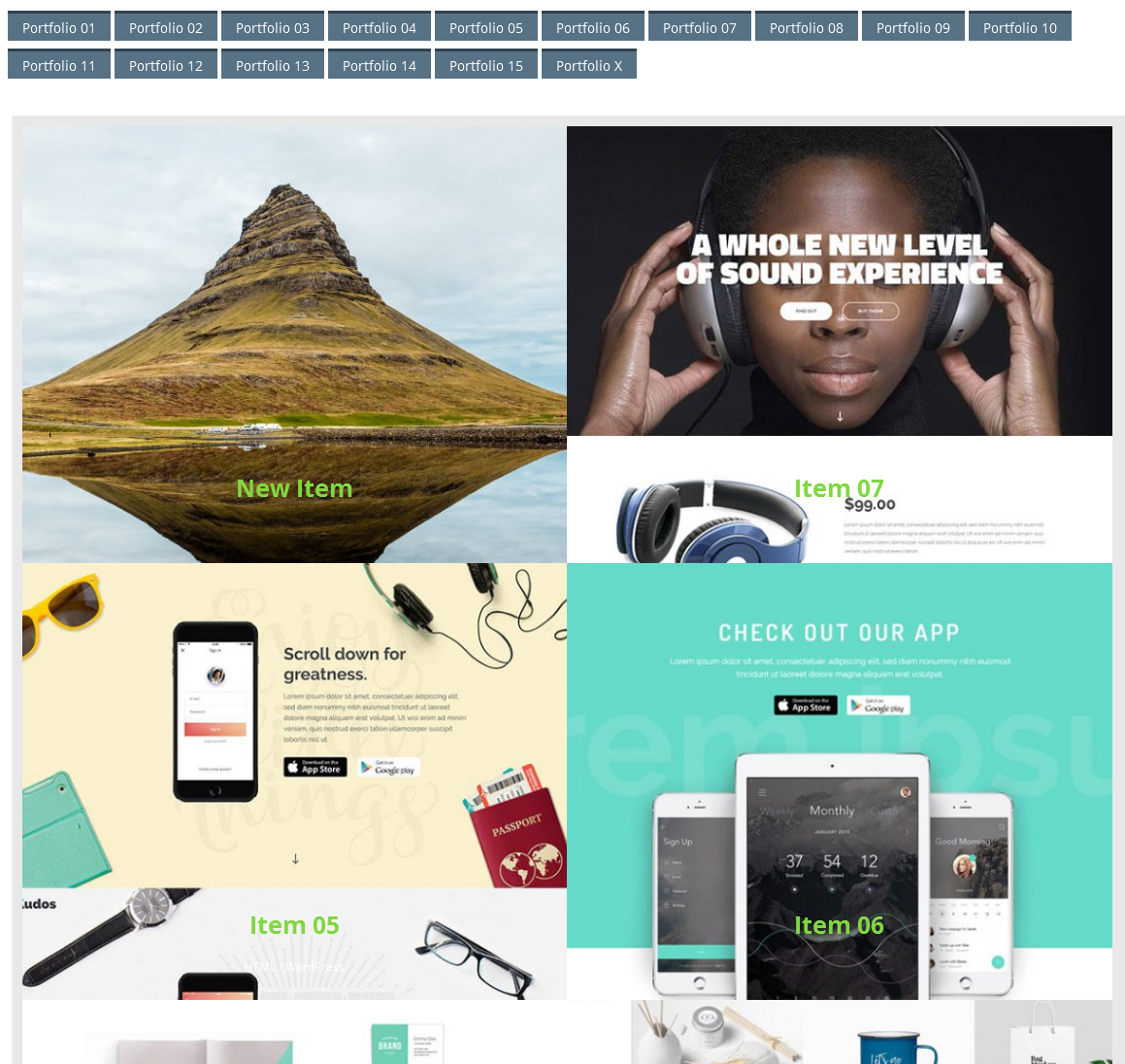 ---
03. Template 03
---
04. Template 04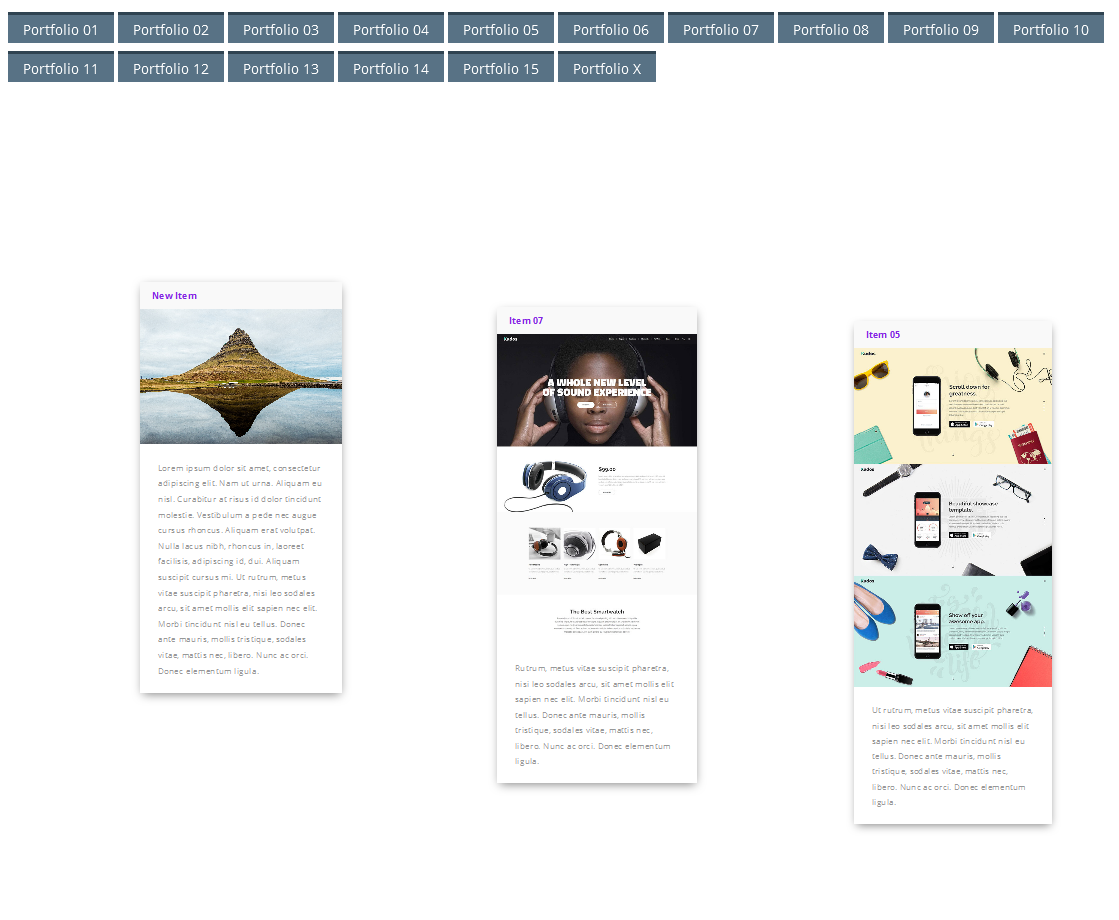 ---
05. Template 05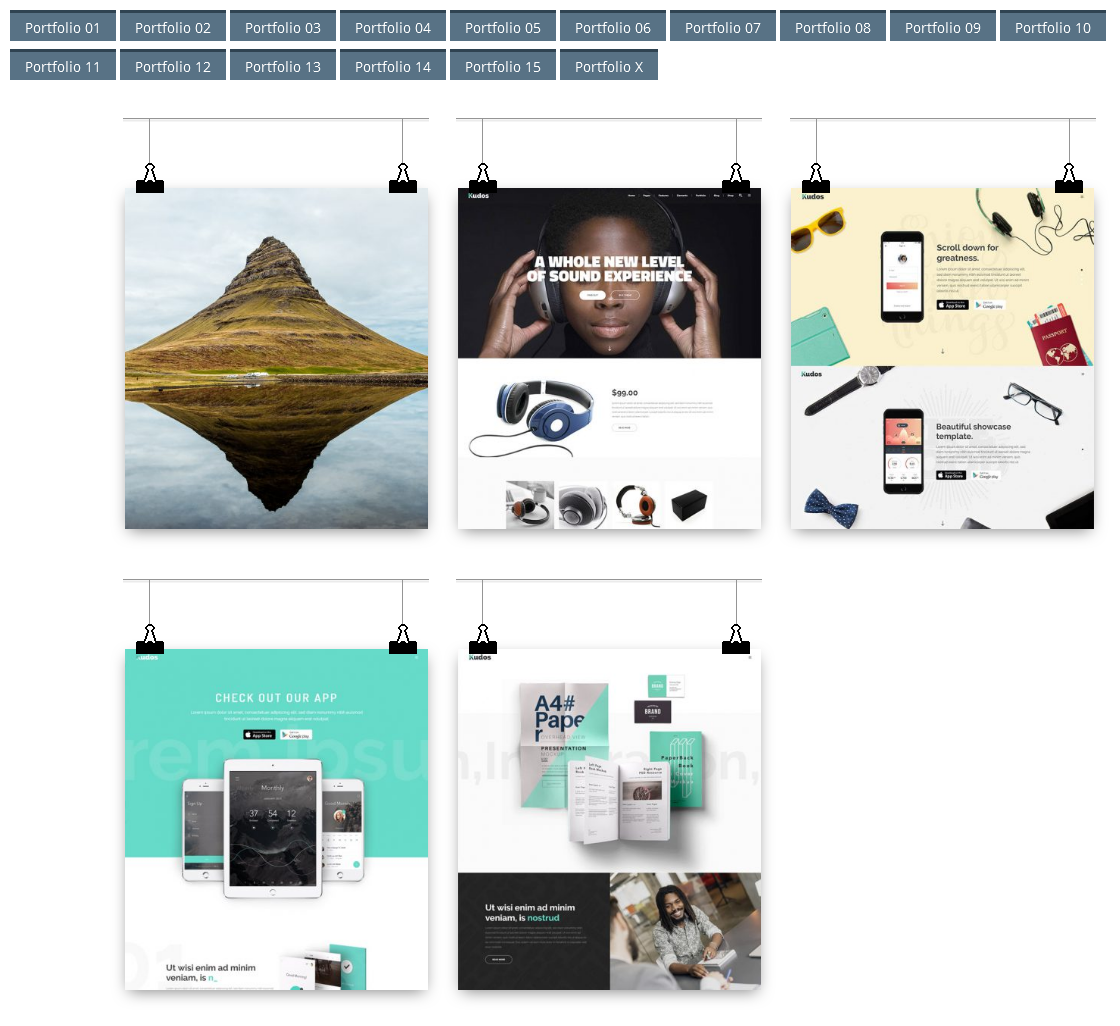 ---
06. Template 06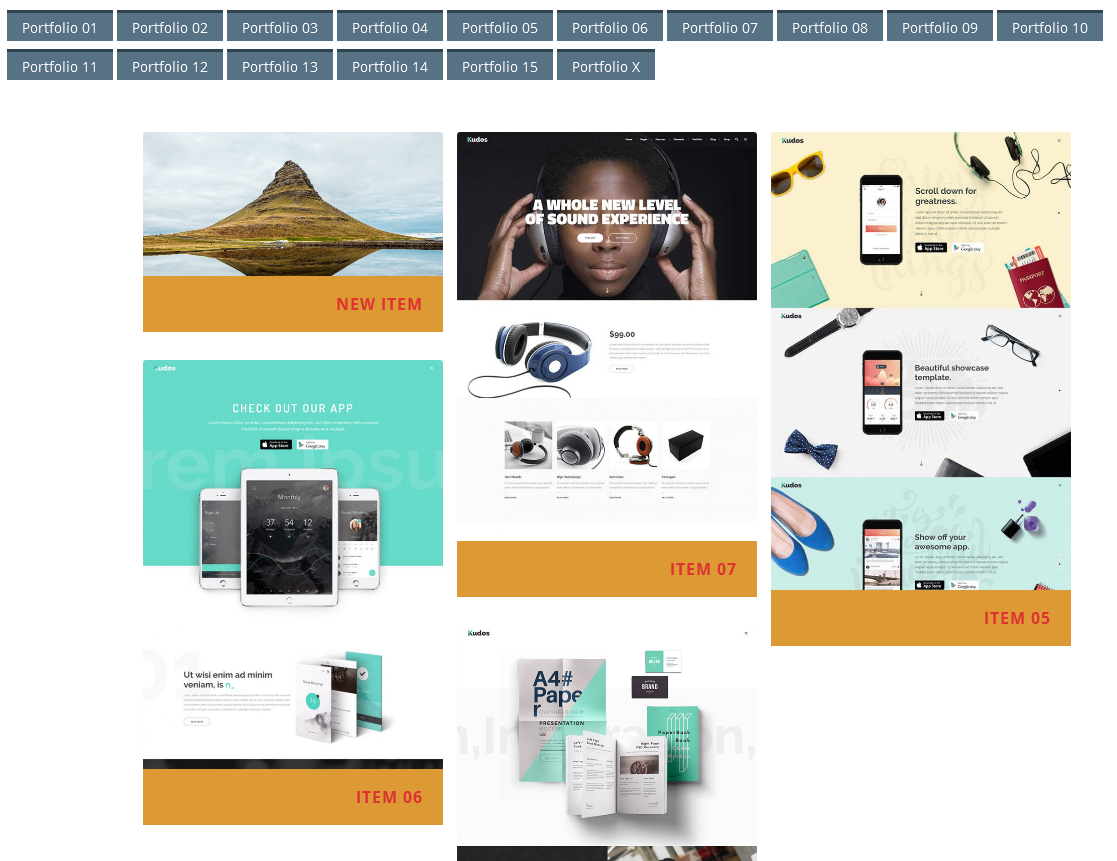 ---
07. Template 07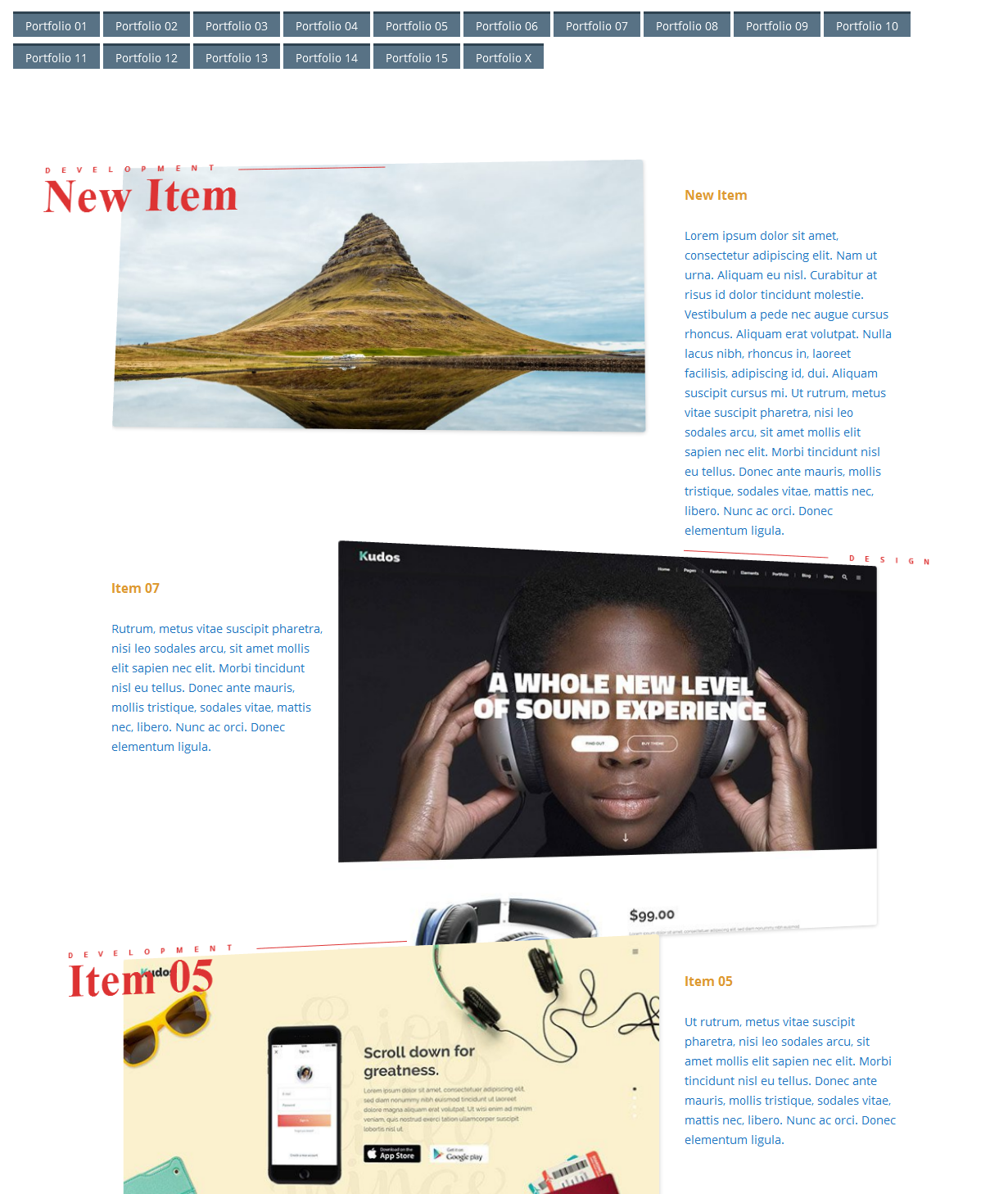 ---
08. Template 08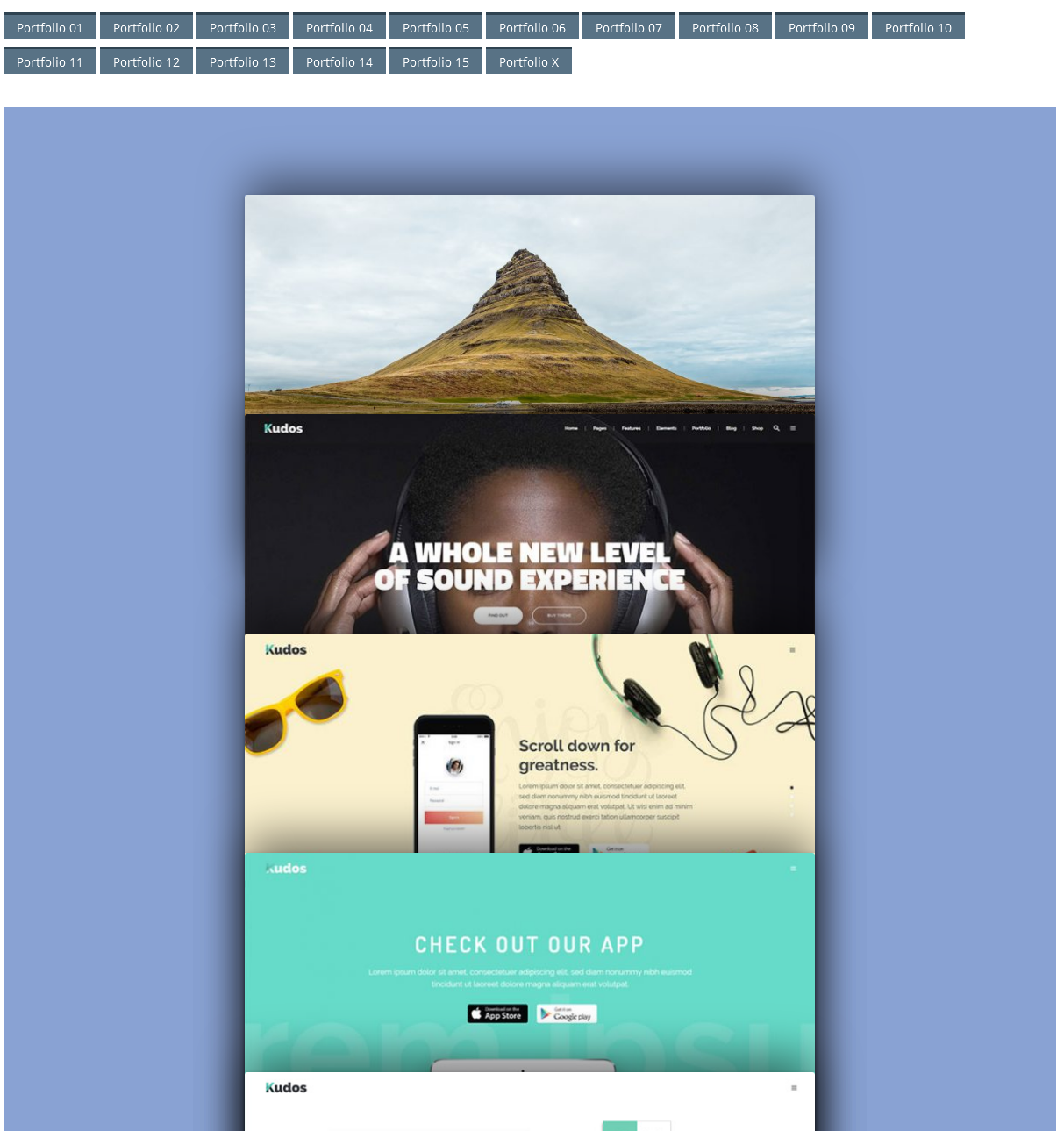 ---
09. Template 09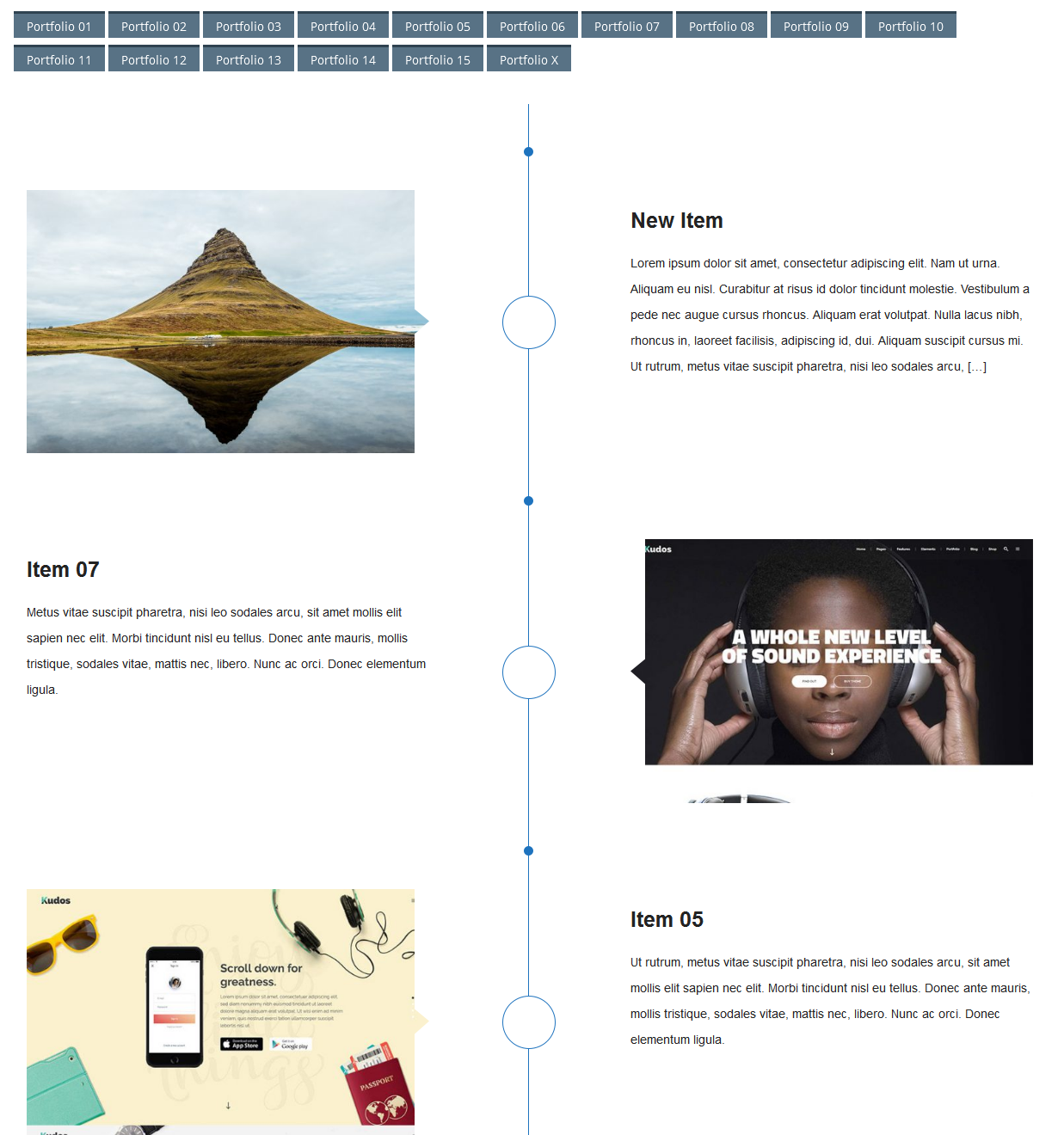 ---
10. Template 10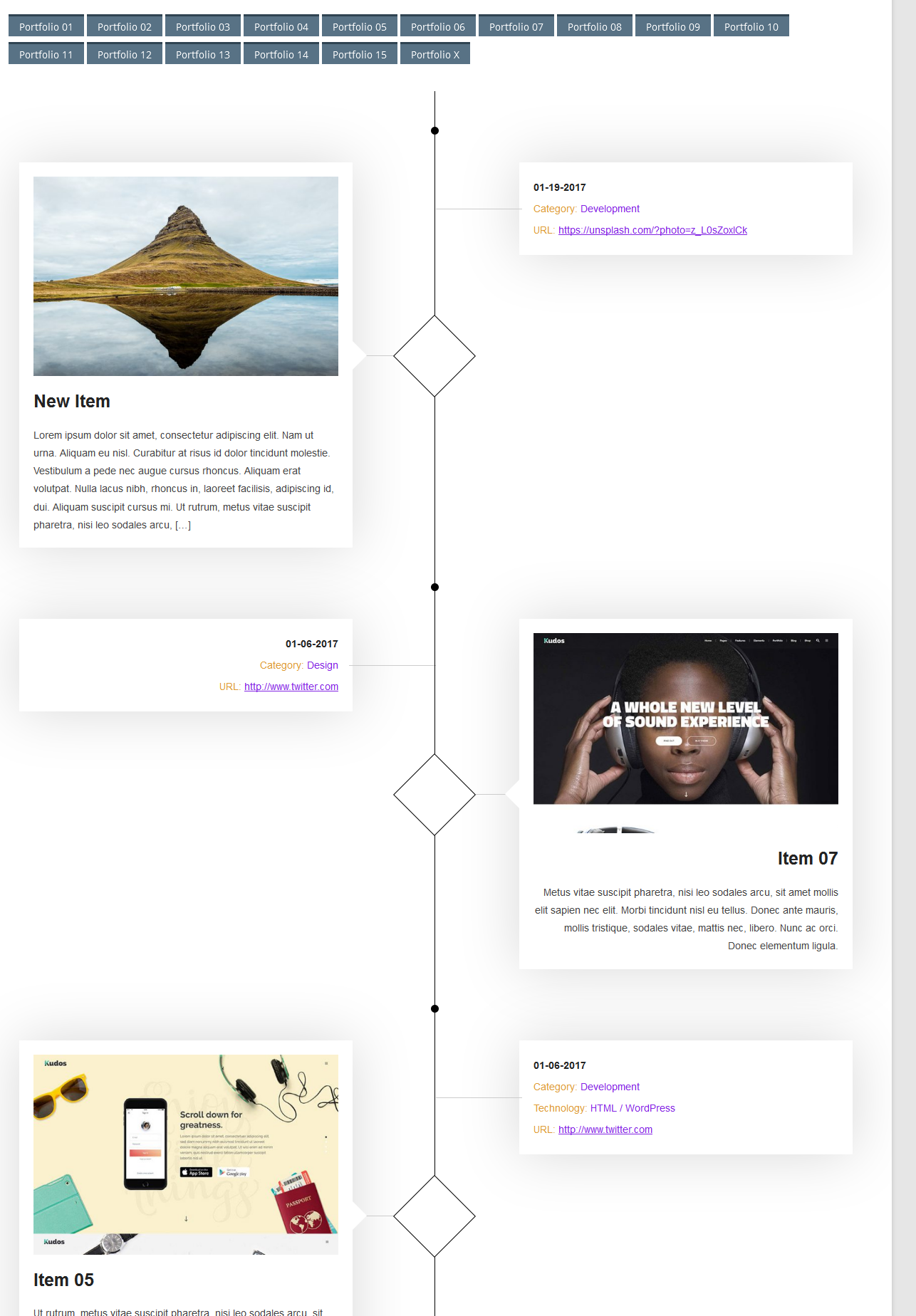 ---
11. Template 11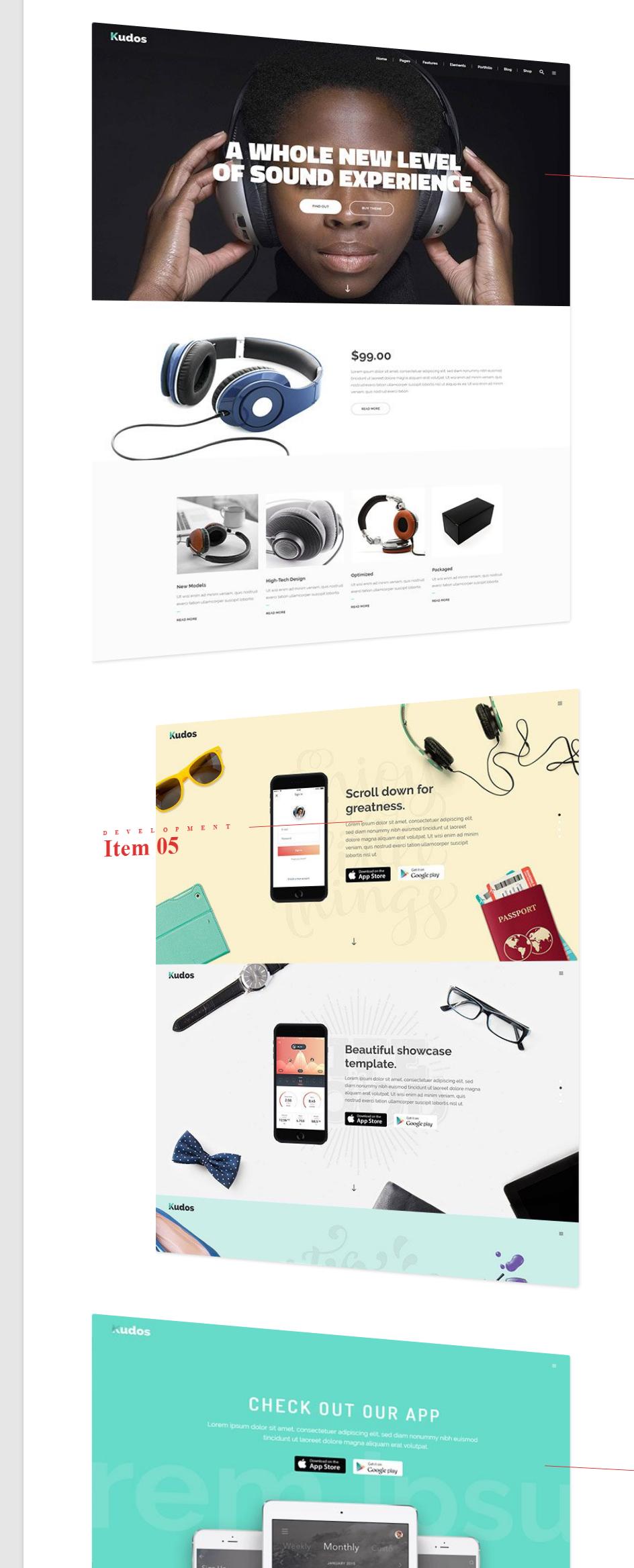 ---
12. Template 12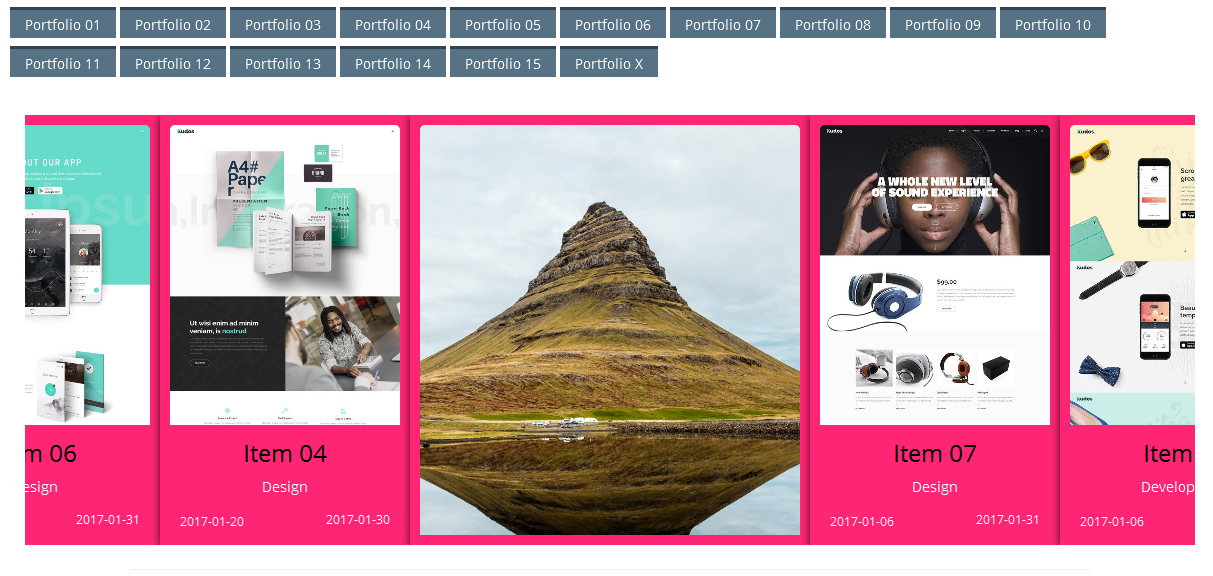 ---
13. Template 13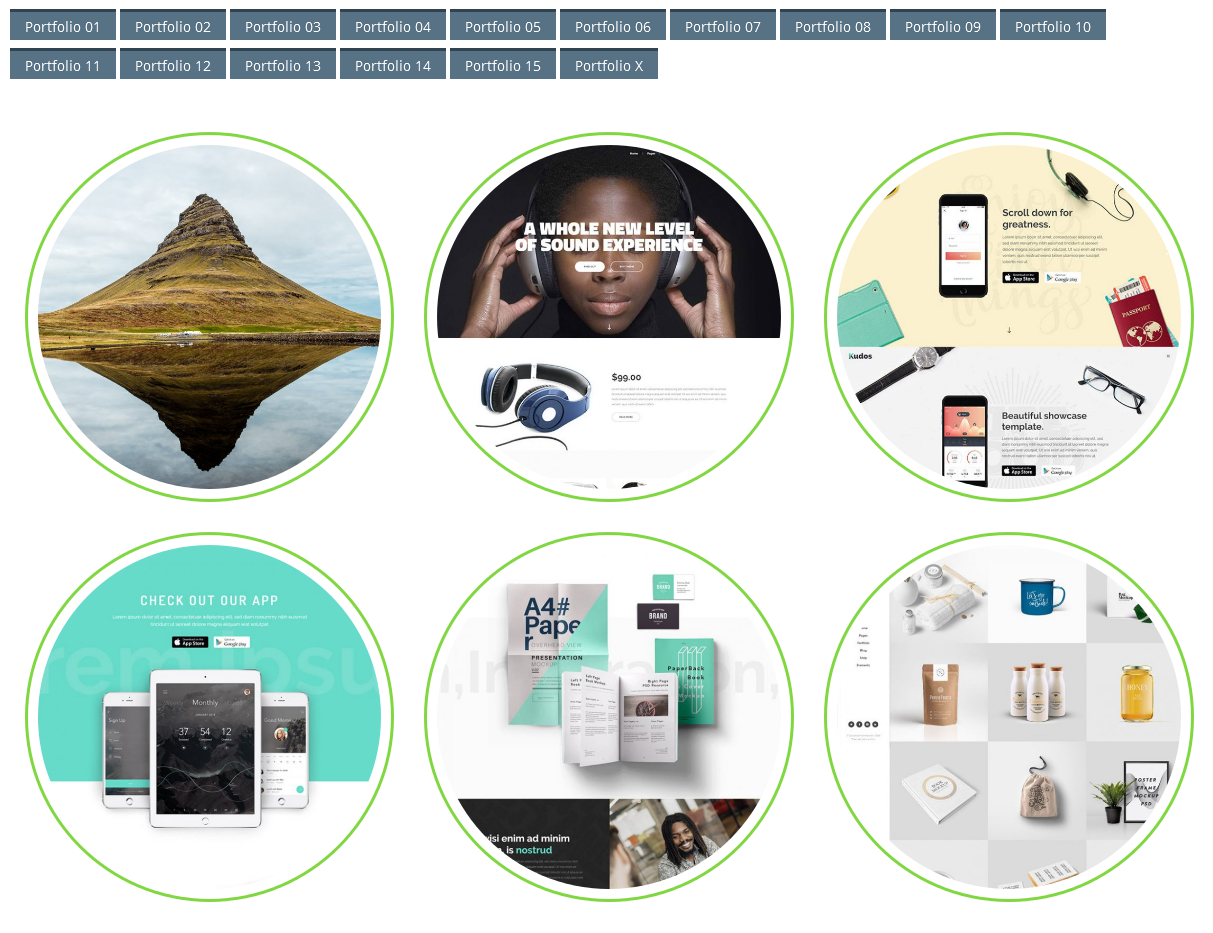 ---
14. Template 14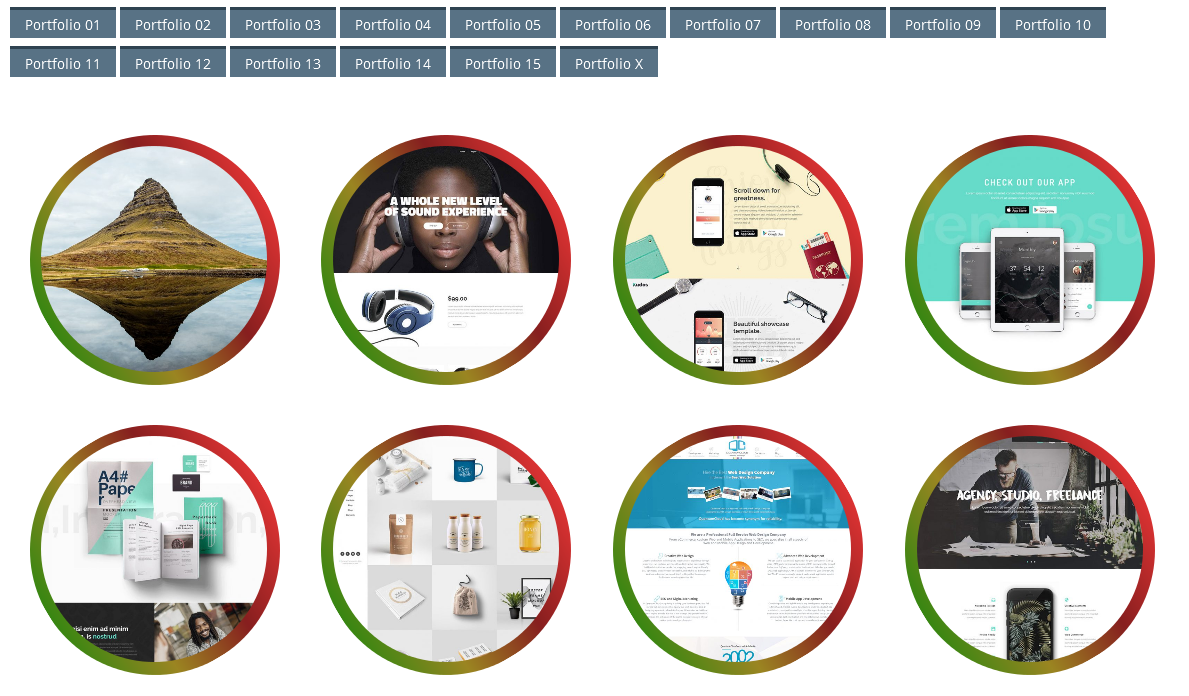 ---
15. Template 15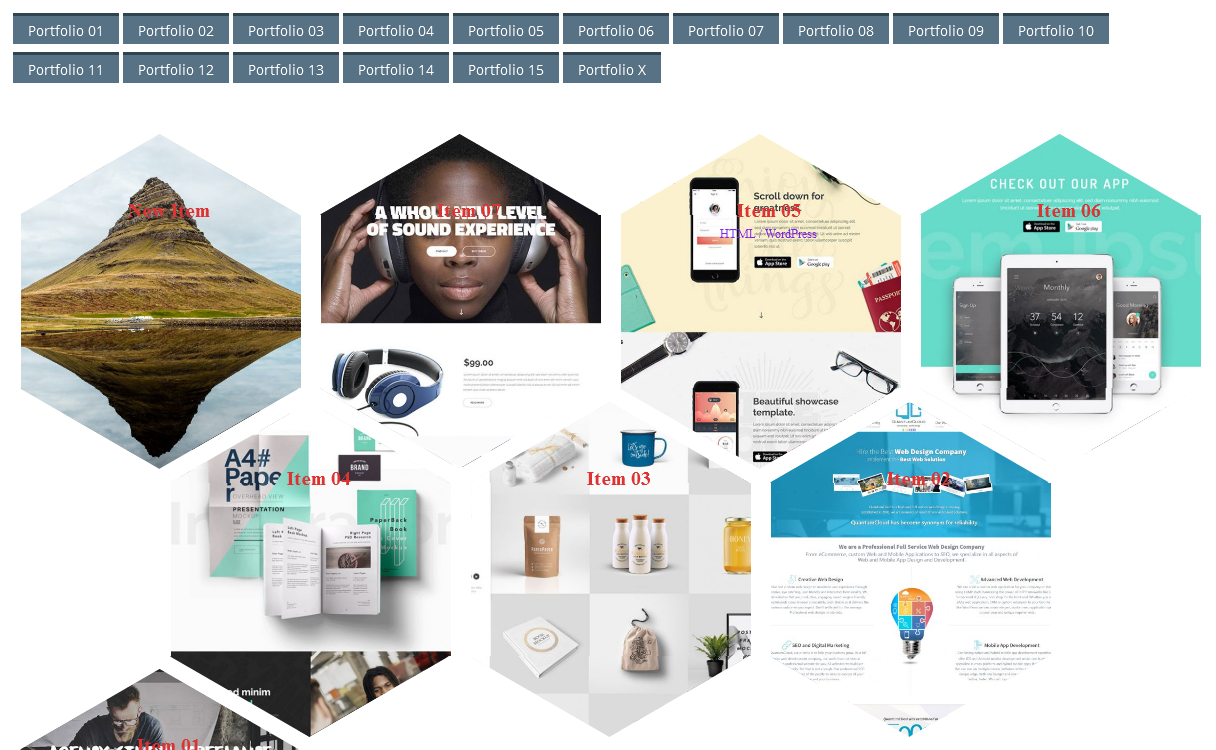 ---
16. Template 16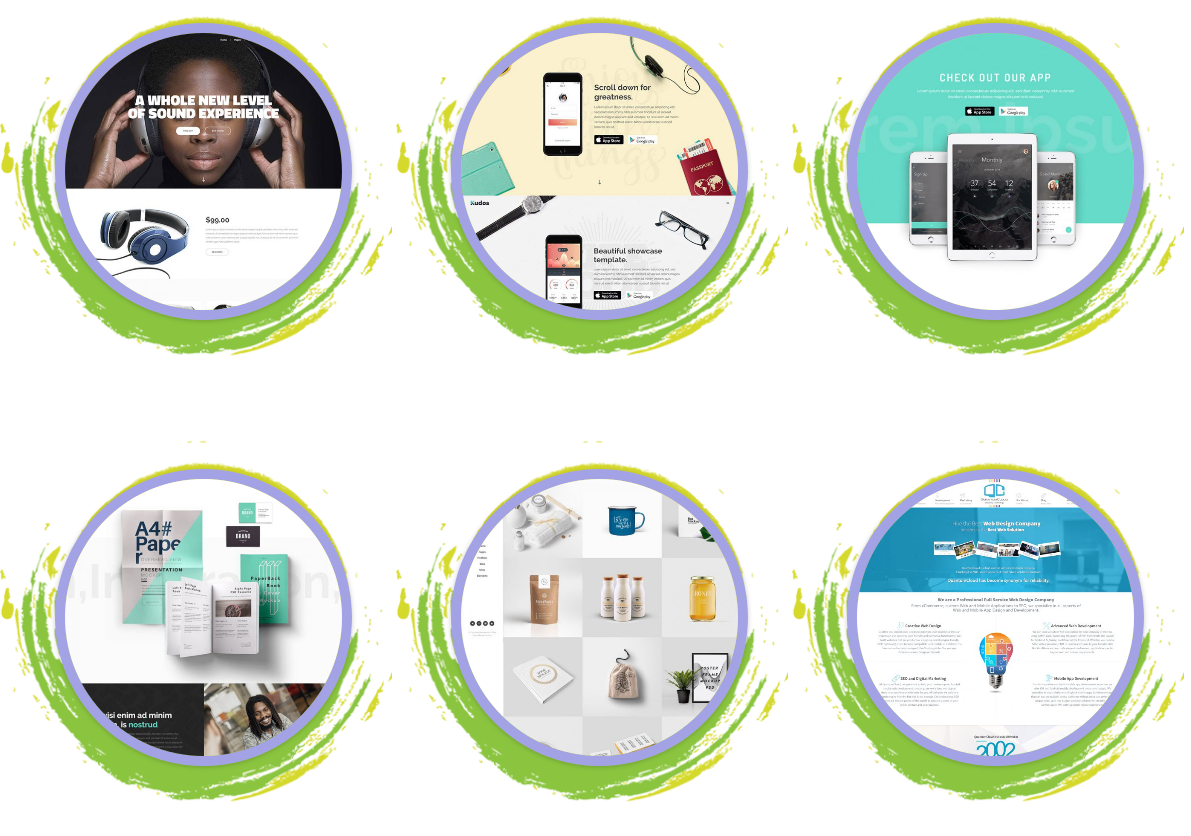 Showcase Styles
01. Style 01

02. Style 02

03. Style 03

04. Style 04

05. Style 05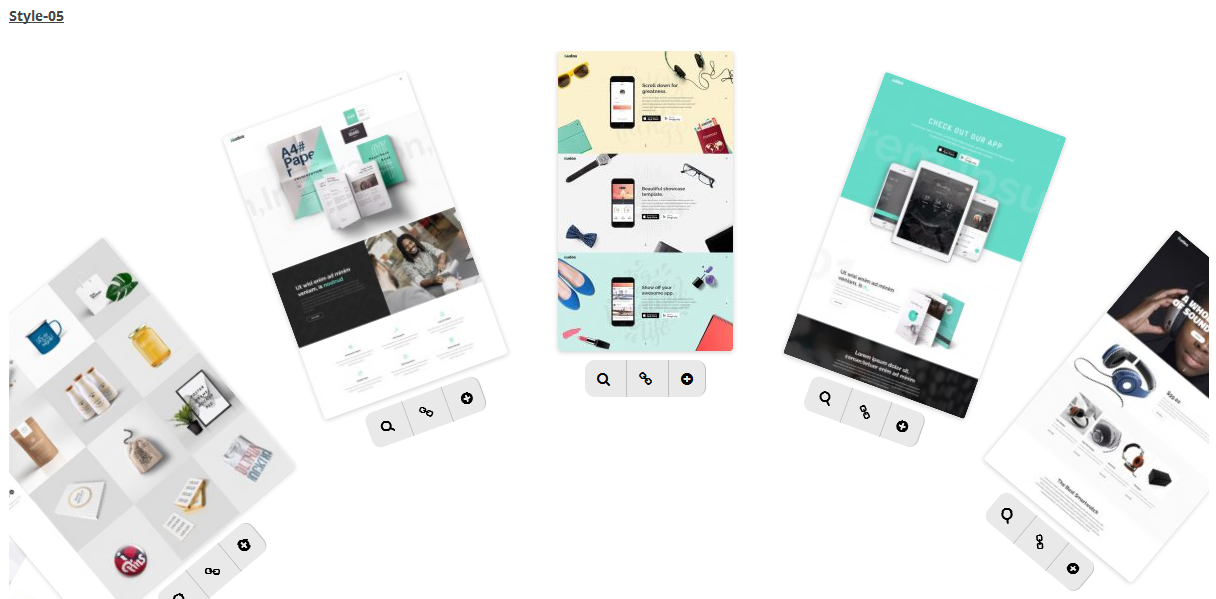 06. Style 06

07. Style 07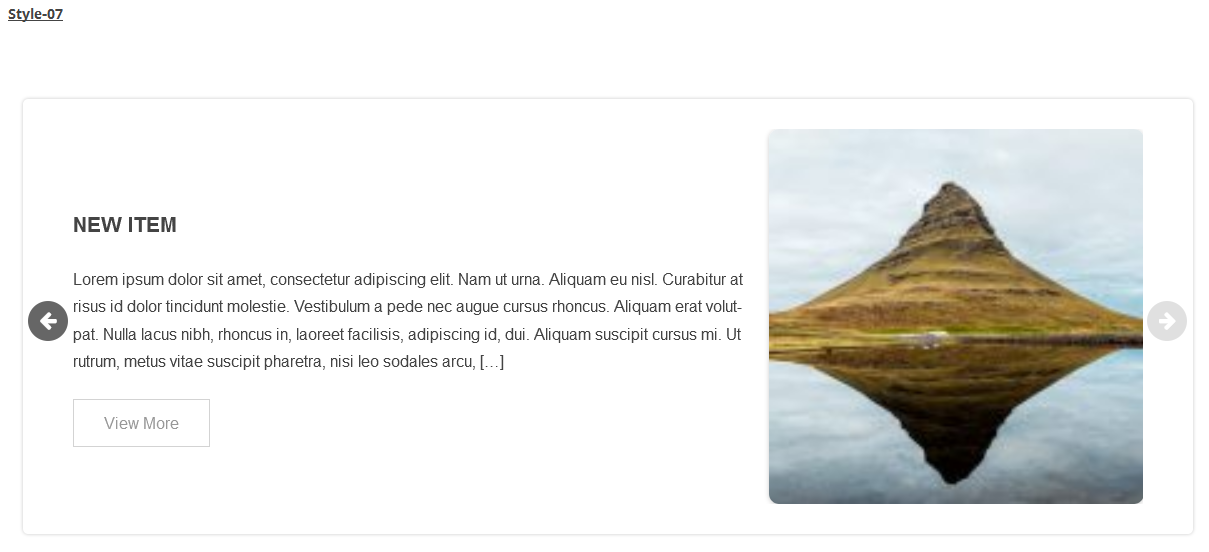 To get instant support, you can email us at: quantumcloud@gmail.com
Any feedback or feature requests are most welcome. We will try to incorporate your valuable suggestions with our item.
Developed by Professional Web Design and Development Company QuantumCloud
Partner with us if you need any design or development help with your website!
We have borrowed the codes and ideas from the below open source projects: