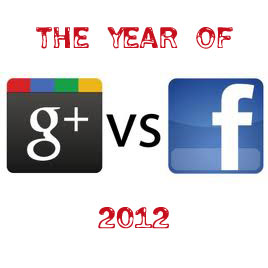 What to expect in social networking front in 2012? 2012 will see some tough competitions between the two giants in social networking – Google Plus and Facebook.
Google just launched its Plus service few months ago and have been adding new features to it madly. The main reason Google launched the Plus venture was to get Facebook's internet content recommendation data without actually having to deal with Facebook at all. Google wanted its own ecosystem where likes, website or content shares and user comments were accessible to them and that they could mix that data in their search engine algorithm to better their search results and if Google+ takes off, they will certainly be successful. Already you can easily +1 any webpage with simple click of a button (either by clicking on a Google+ button on the webpage or Google toolbar). Then those in your Circles will see your preferences reflected in their own search results. Google will keep this trend up and provide personalized results as much as possible. But Google still has over 700 million people to convince to use Plus instead of Facebook. That is a tremendous job and it will certainly keep Google very busy in year 2012. But the ubiquitous Google presence in search and email and a tight integration of Plus with them have given them a great head start.
Facebook just rolled out their new timeline updates world wide so we don't expect any major interface changes here in 2012. However, we do expect many new applications akin to the Skype integration on the platform. Group video chat with up to 10 friends and mini video profile are on their road map for 2012. Facebook is also amping up their Geo location features and video and image editing features.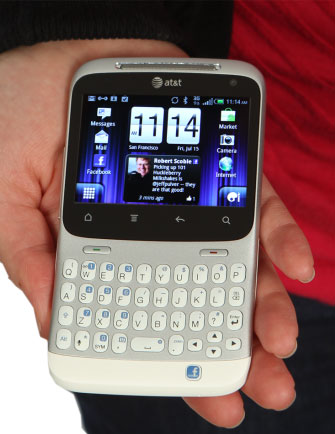 Also Facebook is reportedly working on a smartphone with HTC. But the biggest news Facebook will make in 2012 is probably its going public in Stock Market. Facebook is planning the largest IPO in the history for an Internet based company. This will be big and probably even make the stock markets volatile world wide and affect the world economy to some level. This also gives them a very strong incentive to try and keep ahead of Google+ who will undoubtedly be adding new features to their online service on a monthly basis.
It is too early to say if Google plus will beat Facebook in year 2012. Even if they eventually did, it will be a slow transition and will take 4/5 more years.
In general we expect to see the following trends in social media landscape:
An increasingly tighter integration of social media to corporate websites
More support being provided through social medias because of its low cost of maintenance and publicity
Social media influencing more sales – a kind of leader board set up
Social commerce on mobile devices using HTML 5 and more. The partnership between Facebook and eBay will lead into a new era in eCommerce. You will be able to directly purchase from your Facebook account.
Social CRMs making ways into larger organizations
A considerable growth in social media advertising
A spectacular rise of the branded content
Increase of Geo location influences in Everything
Most social media usage will be on mobile devices
Over half of social media site usages on mobile devices